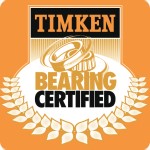 After an extensive audit of our process and equipment and additional training of Atlanta Gear Works personnel, we are proud to receive the Timken Bearing Certification. This certification is reserved for an exclusive group of bearing maintenance companies who have demonstrated solid processes and the appropriate equipment in place to ensure proper bearing maintenance.
This process involved an intense pre-audit by Timken Bearings, followed by personnel training and a post audit process. The rigorous evaluation documented the quality of our processes and equipment that we have in place to store, remove, install and maintain bearings.
This is further confirmation of Atlanta Gear Works commitment to providing excellent quality and the best possible gearbox repair to our customers, which has been our goal since our founding in 1988. To learn more about the history of AGW visit our about us page.