Welcome to our first Georgia Tech graduate, Corinna Draghi. Draghi comes with two other firsts for the company: she's our first woman engineer and our first engineer with a degree in aerospace engineering.
But even though she majored in aerospace engineering, her first full-time job after graduation was as a mechanical engineer working with the inventor of the directly driven centrifugal shot-blast wheel. Her responsibilities included 2D- and 3D-mechanical design and project management of custom-designed heavy industrial shot-blasting machinery used for finishing structural rebar, propane tanks, heavy earth-moving equipment components and other steel and aluminum components requiring a specific finish.
In addition to hands-on experience and knowledge of fabrication and fit-up processes for heavy industrial machinery, she wrote reference and maintenance manuals, cost analyses and multi-million-dollar quotes.
"I learned a lot about hardware and grades of steel and spent a lot of time in steel mills," she said. "All of that is applicable to what we do at Atlanta Gear Works."
In reality, her mechanical engineering training started in childhood.
"I grew up with a machine shop in my basement," she said, referring to the small shop her father operated in the basement of the family home, manufacturing labeling and filling machines for chemical companies that use bottles and conveyors.

"He built everything from memory," she said. "Ironically, what I didn't know as a child was that he was also doing gearbox repair."
Draghi joined us during the pandemic and immediately took advantage of every opportunity offered to her. Since joining the company, she has achieved OSHA certification and was a speaker on the Women in Manufacturing panel at the AGMA 2021 Motion & Power Technology Expo in St. Louis in September.
She is also a member of two AGMA committees. One, Robotics and Automations Emerging Technology, is an ongoing committee that is part of AGMA's emergency technology effort. As a member of the committee, she is co-writing a white paper.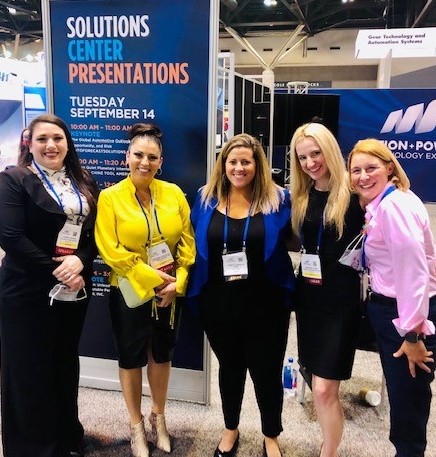 The other, the Strategic Resources Networking Conference committee, plans an annual a three-day learning and networking event for next-generation manufacturing leaders. Draghi, along with AGW's two other newest engineers, attended this year's conference, which covered topics including the effects of Covid on our workforce, hacking, contract negotiations, cyber security in industrial environments, ransomware, and performing under pressure.
"When I met her, I was impressed with her mix of hands-on experience and mechanical design/CAD capabilities," said Chris Dale, VP-Engineering at AGW. "Rarely do we find an engineer who has both gear and gearbox experience. Since we know we will have to train them, we look for someone who is willing to learn and will fit in with our family of engineers."
As Dale noted, fitting in didn't take long.
"Corinna gets along with the people on the shop floor as well as the other engineers in the department equally well," he said. "In a predominantly male environment, she's not afraid to get in there and help out."
Recently, she went with two of her AGW peers on a tire factory inspection, where they worked 12-hour shifts for 4 days, inspecting 60 large gearboxes. Anyone who has ever been in a tire plant knows it's not a place filled with women who get dirty.
"The first thing they said when they saw me was 'Oh, you're a chick,'" said Draghi, knowing it wasn't going to make a bit of difference. "The second day, we had to go buy overalls because our jeans were covered with tar," she said, and added, "I love going into the field."