Anything can cause a gearbox to fail. So, it's no surprise that according to Forbes, despite the prevalence of planned maintenance programs, U.S. manufacturers experience approximately 800 hours of downtime every year, with 82% of companies experiencing at least one unplanned downtime incident over the past three years.
Since a single failed gearbox can shut a plant down, the tangible downtime costs for a failed gearbox at a large manufacturer can be as much as $260,000 per hour – or more than $20 million per day. There are also the intangible costs of idled labor, delayed product deliveries and dissatisfied customers.
Despite the staggering cost of unplanned downtime, a reactive run-to-failure or planned unscheduled maintenance strategy can be cost efficient for non-critical assets, especially when many manufacturers are trying to do more with less.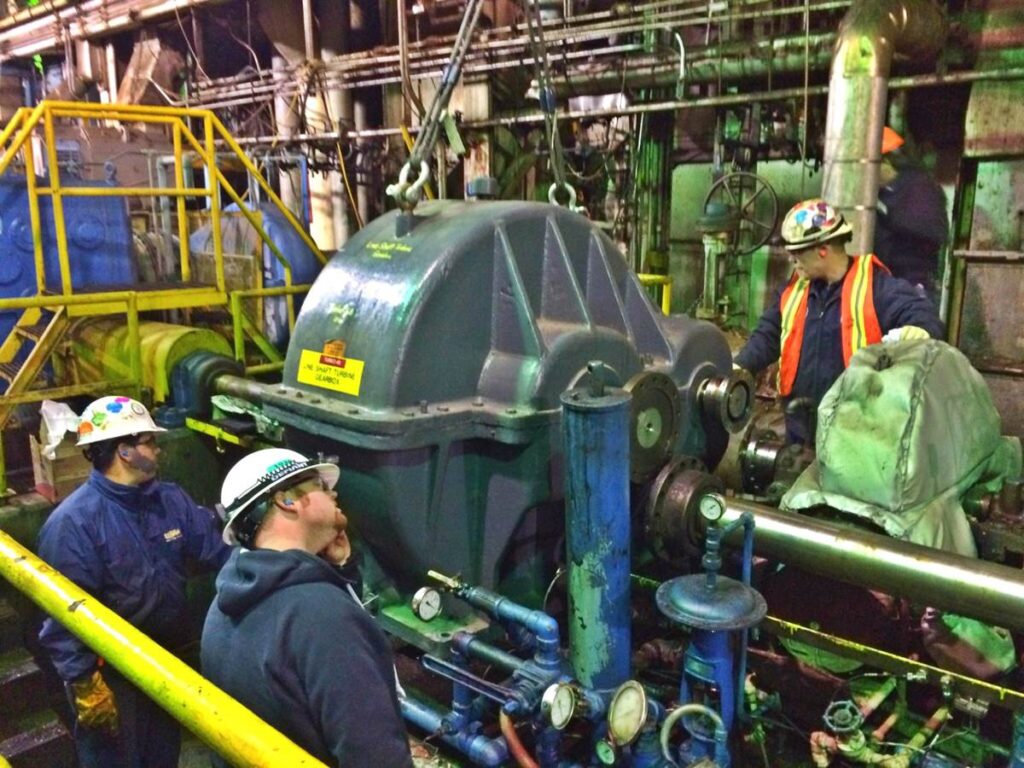 Surprisingly, many companies use planned unscheduled maintenance for even mission-critical gearboxes. It can work if the plant has a comprehensive repair plan for each gearbox plus the correct replacement gears, bearings and seals and available manpower to do the repair. But if they don't, they could be looking at weeks of unplanned downtime.
As a vertically integrated gearbox repair and manufacturing service, we serve customers in eight major industries. Most of them practice planned, preventive and predictive maintenance. During their scheduled annual inspections, we've saved them days and weeks of unplanned downtime by detecting potential catastrophes before they happen.
In such cases, we're staffed to react immediately, either by sending them our field service team with field machining capability to make the repair on site or by bringing their gearbox to our shop. In either case, we'll do whatever it takes – including working 24/7 – to get their plant up and running again.
Most of our clients understand the value of scheduled inspections. Here are two recent examples that proved their value.
When a steel rolling mill scheduled us to come quote a rebuild of their Stand 1 gearbox, they asked us to inspect the vibration in their Stand 2 gearbox while we were there. Upon arrival, we learned diagnosis of the problem would be tricky because the mill lacked the Stand 2 gearbox engineering drawings and had only a single layout drawing.
Luckily, our mechanical engineer had brought with us our borescope and portable FaroArm® portable CMM (coordinate measuring machine), which he used to inspect the gearset. He found two problems: a spall on the first intermediate pinion and an offset hard wear pattern on the high-speed bevel set.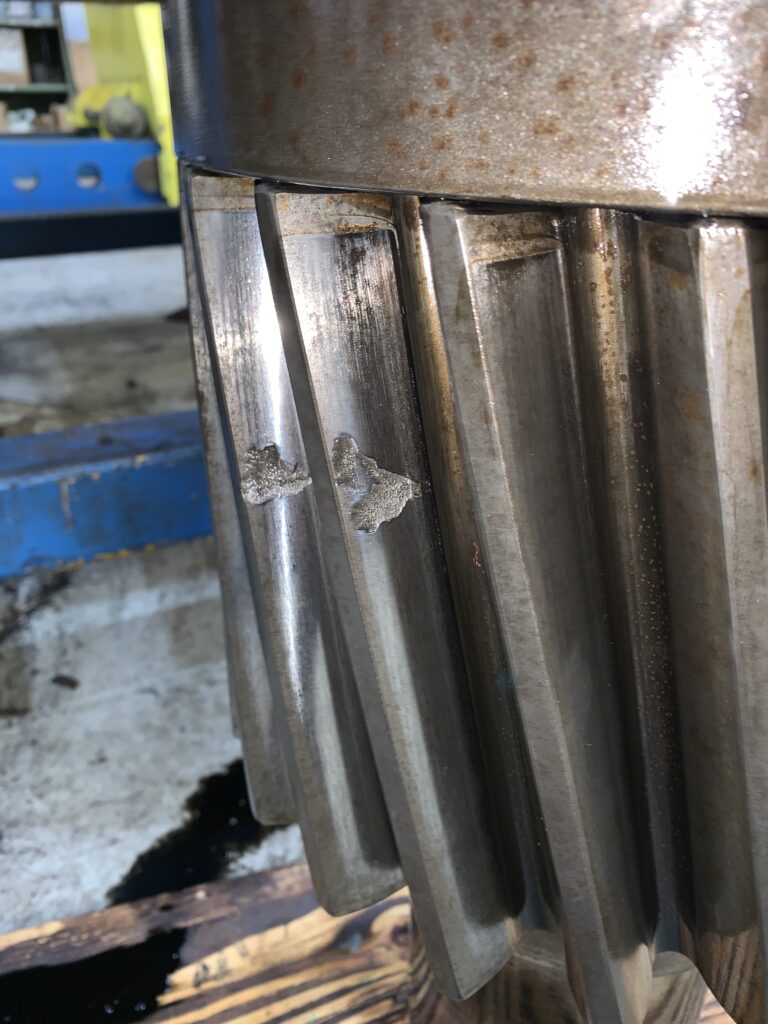 The pattern on the pinion had moved to the heel and was wearing unevenly. This finding confirmed that the blind side bearing was failing and causing high-speed shaft axial movement that was the source of the vibration the steel mill had detected.
Our engineer used the borescope pictures and the single drawing to show the customer where the problems were and how they threatened the integrity of the entire gearbox. The gearbox needed a total rebuild. We needed to provide a quote.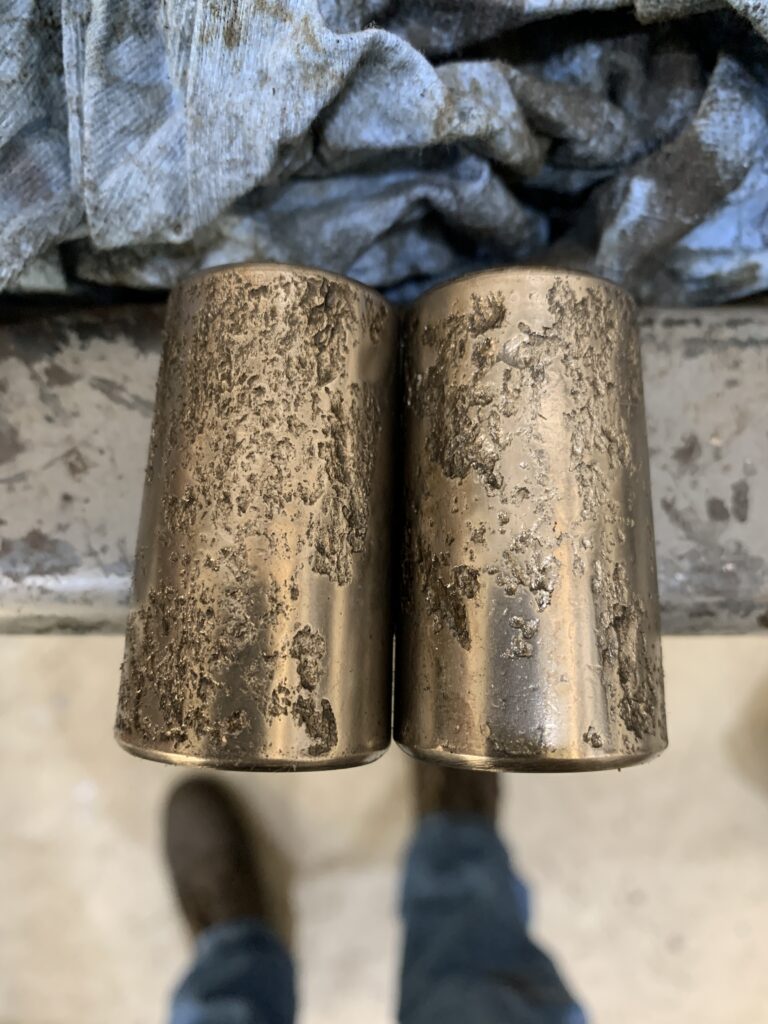 Lacking the engineering drawings, our engineer brought the mill's worn 13-year-old emergency back-up gearset back to our shop, reverse-engineered it and returned it to the mill to continue serving as their emergency back-up.
From the reverse-engineering efforts, we were able to provide a quotation to make an entirely new gearset, provide all new bearings and seals and totally rebuild the gearbox with the new gearset, bearings and seals. The steel mill accepted our quotation, and we established our mechanical engineer as the project manager.
We coordinated with the mill so that everything would be ready for the total turnaround rebuild of the gearbox in less than a week during the mill's upcoming 9-day outage.
As a result, we delivered an all-new gear set, all-new bearings and seals, with four bores on the gearbox machined and sleeved – essentially a whole new gearbox – along with the newly created engineering drawings for the mill's Maintenance Department – with no unplanned downtime at the mill./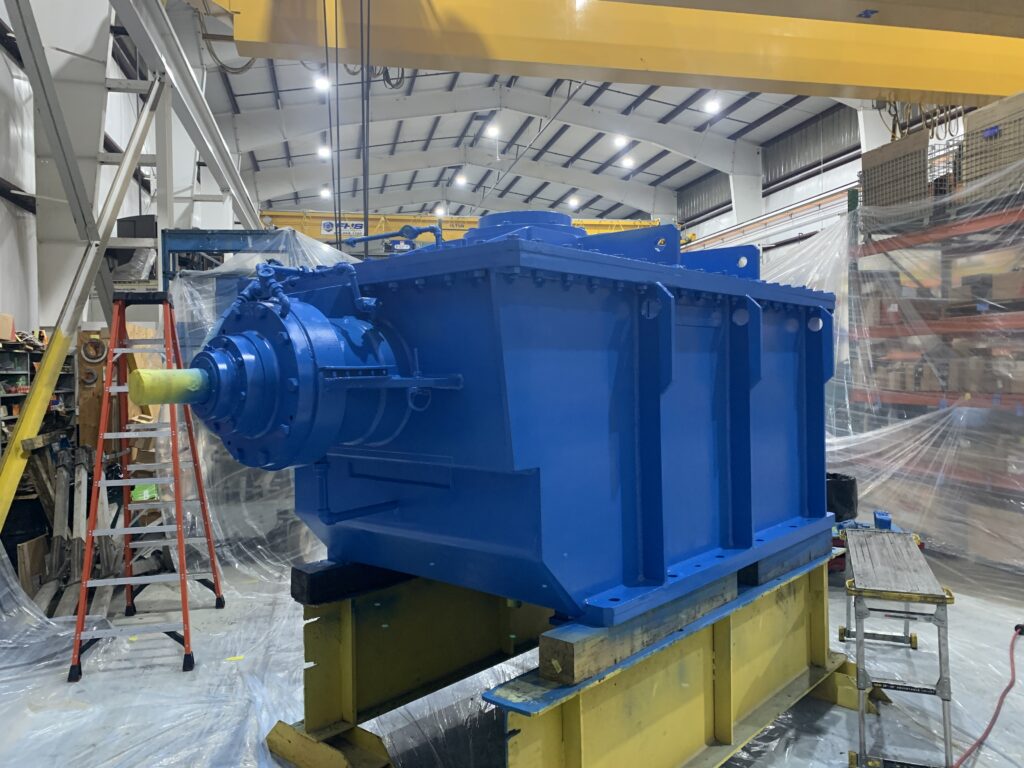 Similarly, another customer, a paper mill, with 30 essential gearboxes averted a catastrophic gearbox failure during their regular annual inspection. During their prior year's inspection, all their gearbox axial endplays had been within range.
During their annual inspection the following year, though none of the gearboxes were showing any signs of problems, our technician found that the high-speed and low-speed bearing endplays in one gearbox were elevated.
Luckily, the mill had replacement bearings in stock and asked if we could repair the gearbox during their planned outage. We immediately mobilized a 3-person crew. They arrived on a Sunday, replaced the bearings on Monday and were on their way back home the following day.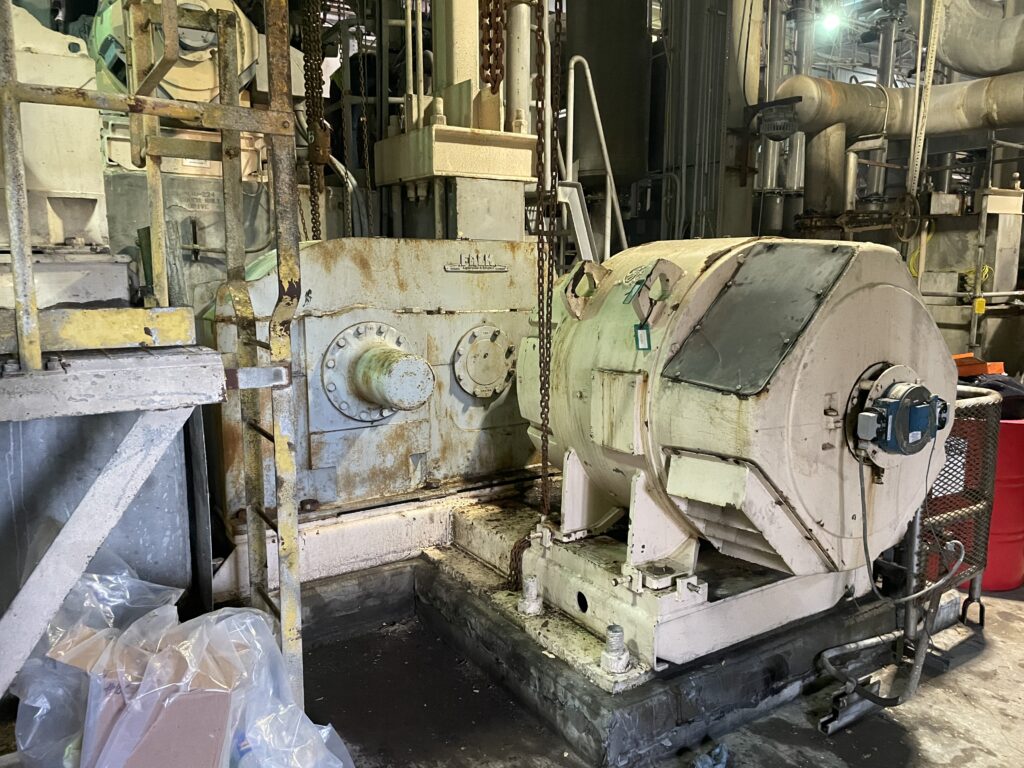 Had we not performed the annual inspection, the worn bearings would have failed, causing pieces of metal to lodge in the gears, and resulted in a complete gearbox failure. Instead of being down for a day, the paper machine in question would have been down for weeks while we performed a complete gearbox rebuild.
"Reactive maintenance has its place, especially now when everyone is stretched so thin," said Craig Massa, Atlanta Gear Works VP-Sales.
"All our customers are doing a better job of preventive maintenance," he said, "because they expect a gearbox to be reliable for 20 years. But regular vibration and oil analysis don't tell the whole story. That's why visual inspections should be part of a good preventive maintenance program."